William and Ann NELSON and Mary PARKER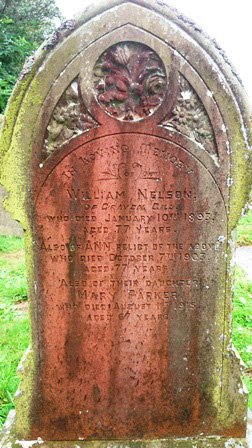 IN LOVING MEMORY OF WILLIAM NELSON OF CRAVEN GILL
WHO DIED JANUARY 10TH 1893 AGED 77 YEARS.
ASLO OF ANN RELICT OF THE ABOVE WHO DIED
OCTOBER 7TH 1903 AGED 77 YEARS.
ALSO OF THEIR DAUGHTER MARY PARKER WHO DIED
AUGUST 1ST 1915 AGED 67 YEARS.