George, Elizabeth and Ebenezer KENDALL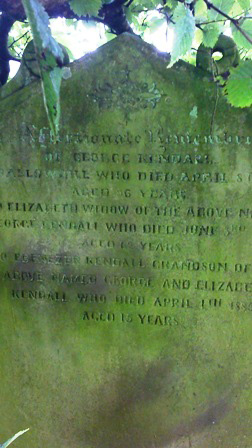 In Affectionate Remembrance of GEORGE KENDALL OF DALLOWGILL
WHO DIED APRIL 8TH 1879 AGED 56 YEARS.
ALSO ELIZABETH WIDOW OF THE ABOVE NAMED GEORGE KENDALL
WHO DIED JUNE 3RD 1886 AGED 62 YEARS.
ALSO EBENEZER KENDALL GRANDSON OF THE ABOVE NAMED
GEORGE AND ELIZABETH KENDALL WHO DIED APRIL 4th 1885 AGED 15 YEARS.