Robert, Ann and Adelaide ASHBY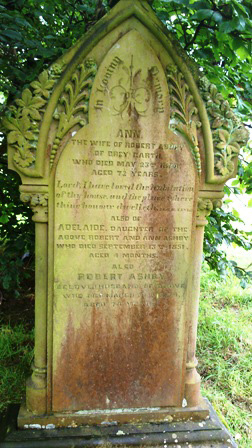 In loving memory of ANN THE WIFE OF ROBERT ASHBY
OF GREYGARTH WHO DIED MAY 23rd 1880. AGED 72 YEARS.
Lord I have loved the habitation of thy house and the place
where thine honour dwelleth PSALM XXVI – 8.
ALSO OF ADELAIDE DAUGHTER OF THE ABOVE ROBERT AND ANN ASHBY
WHO DIED SEPTEMBER 13TH 1851 AGED 4 MONTHS.
ALSO ROBERT ASHBY BELOVED HUSBAND OF ABOVE
WHO DIED MARCH 29TH 1889 AGED 74 YEARS.