Sale of Stubbings 1779
Classified ads .
London Gazette (London, England), January 2, 1779 – January 5, 1779; Issue 11941.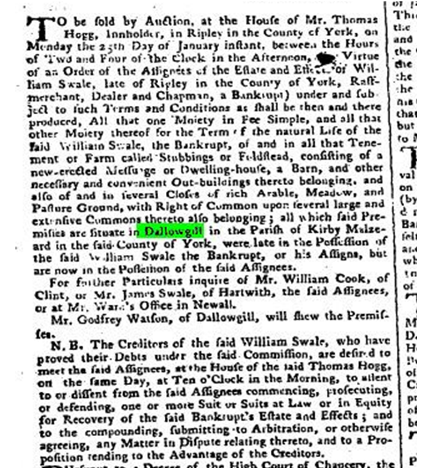 To be sold by Action, at the House of Mr. Thomas Hogg, Innholder, in Ripley in the County of York, on Monday the 25th Day of January instant, between the Hours of Two and Four of the Clock in the Afternoon, by Virtue of an Order of the Assignees of the Estate and Effects of William Swale, late of Ripley in the County of York, Rastmerchant?, (Raftsmerchant?) Dealer and Chapman, a Bankrupt under and subject to such Terms and Conditions as shall be then and there produced, All that one Moiety in Fee Simple, and all that other Moiety thereof for the Term of the natural Life of the said William Swale, the Bankrupt, of and in all that Tenement or Farm called Stubbings or Feldstead, consisting of a new-erected Messuage or Dwelling-house, a Barn, and other necessary and convenient Out-buildings thereto belonging, and also of and in several Closes of rich Arable, Meadow, and Pasture Ground, with Right of Common upon several large and extensive Commons thereto also belonging; all which said Premises are situate in Dallowgill in the Parish of Kirkby Malzeard in the said County of York, were late in the Possession of the said William Swale the Bankrupt, or his Assigns, but are now in the possession of the said Assignees.
For further Particulars inquire of Mr. William Cook, of Clint, or Mr. James Swale, of Hartwith, the said Assignees, or at Mr. Ward's Office in Newall.
Mr. Godfrey Watson , of Dallowgill, will shew the Premisses.
N.B. The Creditors of the said William Swale, who have proved their Debts under the said Commission, are desired to meet the said Assignees, at the House of the said Thomas Hogg, on the same Day, at Ten o'Clock in the Morning, to (ailent/alient)? to or dissent from the said Assignees commencing, prosecuting, or defending, one or more Suit or Suits at Law or in Equity for Recovery of the said Bankrupt's Estate and Effects; and to the compounding, submitting to Arbitration, or otherwise agreeing, any Matter In Dispute relating thereto, and to a Proposition rending to the Advantage of the Creditors.
Transcribed by Carol Metcalfe
xxxxxxxxxxxxxxxxxxxxxxxxxxxxxxxxxxxxxxxxxxxxxxxxxxxxxxxxxxxxxxxxxxxxxxxxx