Dallowgill School, (including part of K M School up to 1886 when Mr Ingram left for Dallowgill)
According to Lilian Chandler's book the School Log book started in January 1863.
The following excerpts are from Lilian Chandler's book taken from the early
Log Book and which is now missing.
Mr Edwin Wilson was the headmaster at this time.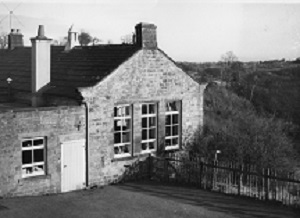 Excerpts from Lilian Chandler's book follow:
Dallowgill School was built and endowed in 1834 by Mrs Elizabeth S Lawrence of
Studley Estate. A letter of thanks with ninety signatures was sent to Mrs Lawrence
from the Inhabitants of Dallowgill, dated 25th June 1834. The beautifully written
signatures indicate that either Kirkby Malzeard school or the Dame schools had given
good instruction in handwriting. The document measured 27.5 inches by 13 inches.
This would possibly suggest that the very first Log Book is also missing
In 1861 Edwin Wilson came to Dallowgill as headmaster and Mrs Sarah Swain, a
farmers wife from High Raycar was an assistant teacher.
The school log book began in January 1863.
25th May 1863. Small attendance on account of a cattle fair at Kirkby Malzeard
July 3rd 1865, Several children obtained leave of absence to work on the peat moor.
8th July 1863 Many of the children at home working amongst the potatoes and turnips.
10th July 1863 Broken up for the hay harvest, three weeks holiday.
1863 23rd November "Martinmass Day – a thin attendance"
In 1863 the Log records lessons on the History of England, geography of Europe and
Palestine and simple multiplication sums.
In 1864 the girls were having sewing lessons twice a week with the schoolmistress.
25th February 1864. "Not a good attendance, Market Day at Ripon"
3rd June 1865 Several children obtained leave of absence to work on the peat moor.
School Inspectors Report for May 1866 "A good year's work has been done in this little
school and the attainments in elementary work are very creditable considering the
difficulties in securing regular attendance in so wild a district.
The children are orderly and very well behaved."
In 1867 the Rev J A Shaw came to Dallowgill and he and School Master Wilson
became great friends. He purchased a harmonium in 1875 and gave it to the school.
1st July 1868 Rev. G French stated that the children were very neat, clean and
intelligent in appearance. They behaved very well indeed and passed creditable
examination in both secular and religious subjects.
He wished they could be taught music.
1869 'The Master deserves praise for what he has done' was on the report of the inspector.
15th June 1870. The children were taken to Hack Fall Gala
19th July 1873 There were only 8 children out of possibly 50 at school due to a very
wet morning.
In 1880 it became compulsory for all children to attend school during the ages of
5 and 10.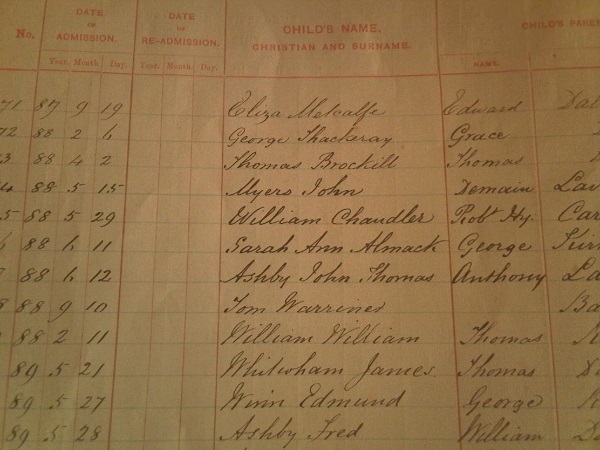 On 7th December 1893 30 children were absent through sickness and on
1st January 1894 the school was closed for a period because of an epidemic of
diphtheria in the neighbourhood.
In 1895 the school attendance fees amounted to 8/-.
27th September 1895, Edwin Wilson resigned after 34 years as headmaster.
22nd November 1895 Mr F. W, Ingram came to Dallowgill as headmaster.
One comment about him was "he was very strict and didn't spare the cane!"
McDougall's National Arithmetic, floral tracing and colouring books were introduced
to the upper standard and alphabet cards for the infant class in 1895.
In 1899 new reading books were supplied for standard one entitled New Royal
Readers and Royal Crown Readers.
In 1899 there were 55 pupils on the school register and the average attendance
was 39. 12 pupils were admitted during the year and 11 left.
Fred Ingram was a member of the Laverton/Dallowgill parish council and he and
his family ran the school farm. Managers of the school in 1902 were Erasmus Buckle
of Laverton, Thomas Harland of Castiles and John W Burrill of Ladyhill.
The school rate was £1 5s.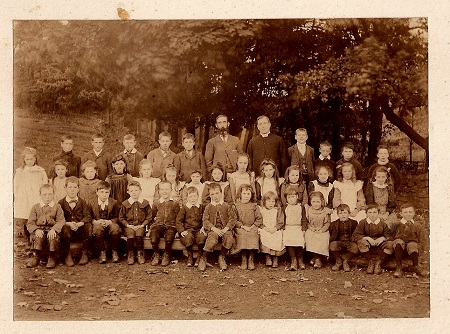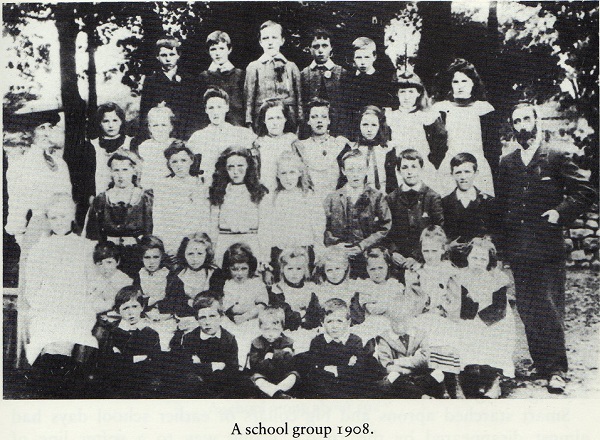 The school was heated by a stove which was in the middle of the room.
Fuel was led from the railway stations by local people with horse and cart.
Members of Ashby families at Dallow were caretakers over a long period followed
by Mr and Mrs Howell of Bents House.
18th September 1912 Scholars with adults in charge were conveyed to Studley by
waggonette and by kind invitation of Lord Ripon. There were 300 children there.
Tea was in the great cloister at Fountains Abbey in the presence of Lord and
Lady Ripon. Wrights band provided music and after tea there was a conjurer's
performance and games in the grounds.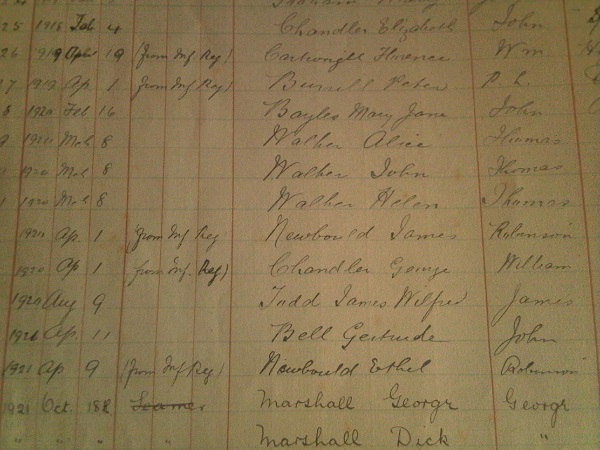 School managers in 1918 were John W Pearson, Peter L Burrill and Thomas Harland.
14 July 1921 Fred Ingram resigned as head master. the children presented him with a
walking stick.
By 1922 Miss Mary Wood Dobson took over duties as head mistress.
She gave piano lessons after school during the 1920's and 30's.
In 1924 Miss Coldbeck of Kirkby Malzeard who was a student teacher came on a
bicycle to teach infants at Dallowgill School. In 1924 an infant teacher was required
on a more permanent basis and Mrs E M Blackah from Poole was the choice
out of 21 applicants.
In the 1930's an asphalt playground and toilets was provided for the girls which
was used for drill and games. Unfortunately Mrs Blackah fell, hitting her head
on the wall in July 1942 and died two weeks later, never having regained consciousness.
Dallowgill School closed on 17th December 1970 having served the community
for the previous 136 years. This ends the excerpts from Lilian Chandler's book
The following excerpts are from the Log Book:-
1921 Oct 14th Attendance during the week fairly satisfactory. George Greensit absent
through sickness (Medical Certificate).
Total Attendance 2211
Average 22 Percentage 88
I, Frederic William Ingram resign my position as Head Teacher of Dallowgill Council School.
The school at Dallowgill was headed by temporary teachers until on ……..
1922 Jan 9th I, Mary Wood Dobson commence duty here today as Head Teacher.
Stormy day. Ten children absent. School nurse called to day.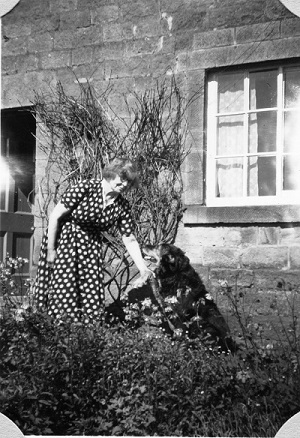 1922 Feb 28th Holiday. Princess Mary's Wedding Day.
1924 March 5th Stove could not be made to burn. Infants taught in Girls cloakroom by
Miss. Coldbeck who taught all day as mistress was ill. One girl was very sick and had to
be sent home. Two other children were ill. School was begun for the afternoon at 12.45
and at 2.45 the children were sent home, as it was too cold to stay and mistress was
very sick. No playtime was given.
1924 July 7th Mrs. Blackah, appointed supplementary teacher at this school,
arrived to-day at 2 p.m. and commenced work.
1930 January 21st School listened to broadcast of the Naval Conference by the King.
1930 Sept 3rd As this was the occasion of the Wesleyan S. S. Opening, leave was
obtained to hold the afternoon session from 1 pm to 3 pm without recess.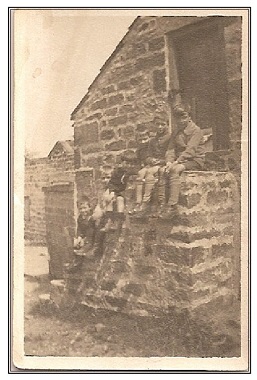 1931 May 22nd Empire Day Programme (B.B.C.) was listened to by all scholars present
from 11 a. m. to 11.50 a. m.
1939 Sept 1st Gas Masks brought to school and fitted on.
School closed – This is a Reception Area for Evacuees and a number are
expected to-day.
Week ending: No. on reg 20: Aver 18: Percent 90
1939 Sept. 4th War with Germany declared yesterday at 11 a. m.
School closed until Evacuees are received and arrangements made for teaching.
1941 Feb 14th Mr. Appleby engineer on the Valdemosa, the ship which rescued
307 children from the torpedoed Dutch liner Volendam visited the school this
afternoon and told the children the story of the rescue.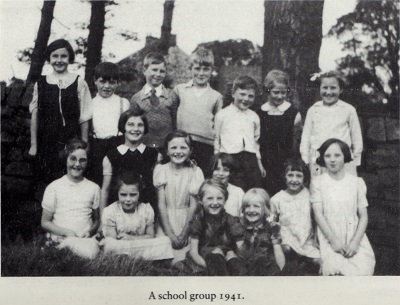 1941 March 24th Five evacuees from Brighton enrolled.
1942 July 29th Mrs. Blackah died in Ripon Cottage Hospital on July 31st.
This was due to a fall she had in the playground on the 21st July, where she banged
her head and became unconscious
1942 August 26th An officer in charge of a large number of men who had been out two
nights & were wet through asked leave for the men to sleep in the school. Mr. Jones
agreed to allow this as the children of whom 11 only were present owing to the heavy
rain were taught in the church, by permission of Rev. E. Horton.
1942 August 27th The school was vacated by the soldiers to-day at 11 a. m. and lessons
were resumed in school.
1942 Nov 2nd Miss. Dora Watson attended school this afternoon for observation
purposes and teaching practice.
1944 June 14th A Radio set was installed in school tonight
1944 July 12th Two evacuees from Bexley Heath enrolled in the afternoon.
1945 Sept 28th I, Mary W. Dobson resign my position as Teacher of Laverton Dallowgill
Council School.
1945 Dec 3rd In accordance with my appointment as Headmistress of Laverton
Dallowgill School I,* Rosemary Watts, (Mrs)* began my teaching this morning.
Twelve children, three infants and nine juniors were present. School dinners were
served to all children, supervision duty being taken by myself and serving by the
Canteen helper. Attendance 12
Sept 28th to Dec 3rd Olive Swalwell took charge as a temporary head teacher.
1946 May 29th Information was received today that the closure of this school is now
being considered by the Ministry of Education.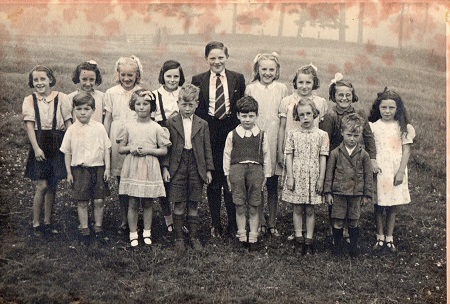 1946 Sept 25th A notice giving notice of the intention to close the school,
was applied to the school door; notice has also appeared in the local paper.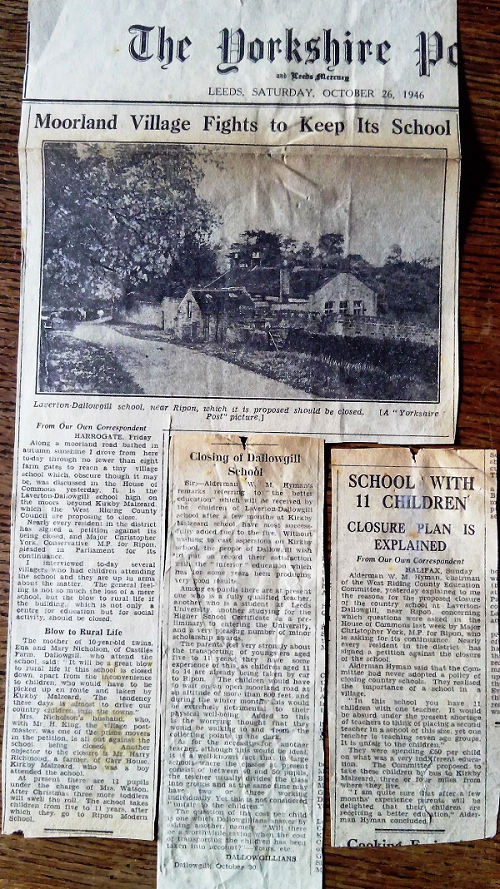 1947 January 29th Temperature in school at 9.0 a.m. – 44ﹾ F.
No firewood & no coal for lighting stoves. Large stove eventually started.
Temperature at 12.p.m. – 52ﹾF. Very cold indeed. Heavier snow during the
morning. Rang up Divisional Officer.
1947 February 28th Attendance nil. More snow. No sign of the plough.
Road again blocked.
1947 February 28th
Copy of letter received by Mr. G. T. Nicholson Esq. Castiles Farm, Dallowgill.
Sir, With reference to the petition against the proposed closure of the above
named school (Laverton,Dallowgill Council School, Yorks, West Riding, No.479)
which you forwarded on behalf of residents and parents of Dallowgill District,
I am directed by the Minister of Education to state that, after careful
consideration of all the factors involved, he has decided against the closure of
the school. The Local Education Authority are being informed accordingly.
Signed A. E. Parsons.
1947 March 27th Workmen today repaired the water pipe in the wash-house
and the tap in the boys cloakroom which were both broken by the frost.
1947 November 20th School closed on the occasion of the Wedding of Princess Elizabeth.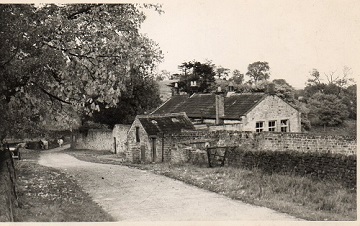 1949 Oct 12th A new school wireless was received today, a Bush B.P. 90
All day battery portable.
1950 April 28th One child ran home after lunch and did not return during the
afternoon. He had been kept in and copied out 10 times "I must not bring my
gun to school". His gun was put in the teacher's desk because he was using it to
frighten younger children, having hit two with the butt end during play. As he did
not appear during the afternoon the gun remains in the desk. He stayed at home
on the following school day, returning on the Tuesday, the excuse being sickness.
The gun was returned to him.
1952 January 31st I, Rosemary Watts resign my position of Head Teacher
of Laverton, Dallowgill County Primary School.
1952 February 1st As instructed, I Grace Holmes, (Mrs.) took up duty at 9 a.m.
as Temporary Head Teacher. Attendance 11
1952 July 25th I, Mrs. Grace Holmes, today ended my period of service
as Temporary Head Mistress.
1952 Sept 2nd I, (Mrs.) Dora Chandler, took up duty as Head Teacher.
15 children on roll.
1953 Oct. 30th A new stove was installed by Morphetts (Harrogate) today.
1955 June 15th The attendance officer called.
Electricians came from Wakefield to decide on electrical fittings.
It is proposed they are installed in August.
1956 Sept 5th Some electrical fittings have been installed.
The premises have been cleaned.
1957 July 10th The electrical contractors, Kernot of Ripon, has now completed
the installation.
1957 Sept 2nd A coke stove is to be erected near the main entrance.
1958 3rd March Miss. D. Chandler left to-day for six months leave of absence.
I,(Mrs. E. M. Chandler) took up temporary duty as Head teacher.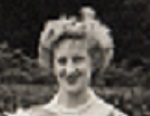 1958 10th July The photographer visited the school and took a group photograph
of all the children.
1958 Sept. 2nd I,Mrs. G. D. Chandler recommenced duty as Head mistress.
1959 1st July Visit of photographer.
1960 28th June The photographer visited the school this afternoon.
1960 5th Oct The architect examined the ceiling & decided that it needs renewal.
This should be done in the Christmas holiday. The interior decorating has been
postponed until Easter.
1960 15th Dec. Mr. Rawcliffe & Mr. Rhodes (Div. Ed. Off & architect) came to
discuss new ceiling, stove pipe, water supply & new kitchen arrangements.
1961 14th March All children paid a visit to Kirkby Malzeard Dairy this afternoon.
We travelled by Mr. Thirkill's bus.
1961 24th April Mrs. K. A King has taken up duty as part time assistant.
She works for 5 hours per week at this school. She stayed for one year.
1961 1st June Photographer came & took several photographs.
1962 12th Feb Severe damage has been caused by gales at the weekend.
1962 9th July The photographer came this morning. He took several photographs.
1962 10th Sept. During the holiday the new water line was installed. The hot water
(electric) storage tank is installed in the school kitchen. No new entrants this term.
14 children on roll. Mrs. E. M. Chandler has taken up duty as part time (5 hrs),
teacher as from 18th July.
1962 21st Dec School closed today for Christmas Holiday. Heavy snow.
1963 1st March A Gazette reporter has taken photographs of snow in Dallowgill.
He visited the school.
1963 17th June Visit to Ripon Railway Station. All children were present.
Mrs. Nicholson & Mrs. Holman took us in private cars. The visit lasted
until 3.30 pm. and the children found much to interest them.
1963 31st July School closed for holiday. 2 children left school. Mrs. E. M. Chandler resigned.
1964 25th May The plantation near the school is being felled. The children are most interested.
1964 8th Sept. The telephone was installed on 26th August.
1965 4th January W. I. party 5.30 pm – 11.30 pm. Children and parents attended. A good
attendance at social. This week local newspaper reporters have been interviewing
parents re proposed closure of school. Some photographs of the school have been taken.
1965 13th January The B. B. C. have applied to W. R. C. C. to use Closure of Dallowgill
School as an item in their programme 'Look North'. Permission to film the school was refused.
1965 23rd Sept. After leave of absence since the 1st June Mrs. G. D. Chandler
returned to teaching duty. Mrs. P. M. Frankland has taken over temporary duty
June–September. The Canteen Helper, Mrs. A. Newbould, has been seriously ill
and Miss. E. Holman is now acting as helper in the kitchen.
1966 31st Jan The photographer came to school today. The school dentist has
examined all the children. A telephone has been installed in the school house on a
shared basis with the school telephone.
1966 2 March J. Kitching repairing playground wall, which fell during a gale.
1969 6th Jan School re-opened. A new stove has been installed in the Classroom.
18 chn on roll. Miss. Dickens continues as part time teacher for 3 hrs weekly.
The closure of the school has been announced. Building is to commence at
Kirkby Malzeard at Easter.
1969 27th March A notice has been put up on the school door, stating that the
school is to be closed. Certain objections are being sent to the Minister.
1969 15th July Mr. Timothy, Divisional Education Officer of Mexborough Division
visited the school with 3 headmasters of Secondary Schools. They hope to use the
school next year as a Field Study Centre.
1969 Sept 4th Miss. H. Dickens has resigned as part time assistant and is replaced
by Miss. M. McWilliam.
1969 1st Dec The photographer came today. All children present at school.
1970 11th Feb The weather is cold, but we have had very little snow.
Most children are absent due to mumps or colds. 3 pupils were taken to
Kirkby Malzeard this afternoon. We looked at the Dairy & the building of the new school.
1970 13th April 16 children on roll. The Fire Prevention Officer called. School opened for
the Summer Term. It has been announced in the local press that this school will close
in Jan 1971.
1970 22nd Dec Today, after a party for the children, the school has closed.
History of Kirkby Malzeard School up to 1886 when Mr F.W. Ingram left there
to be the headmaster of Dallowgill School
There is a date stone on the wall of Kirkby Malzeard School which states that it was
rebuilt in 1762, and there is evidence of school teachers way before that date.
One of the earliest teachers was Jonathan Robinson from 1580, it is written that
he was an "egregious papist" !
Gilbert Horsman founded the school from his Will dated 27/11/1640, he gave an
annuity of £5 and an acre of land was allotted at the enclosures.
(Between 1604 and 1914 over 5,200 enclosure Bills were enacted by Parliament.)
On 24/12/1716 George Elsley gave an endowment of £5 per annum to build a school.
In 1726 William Elsley gave £10 p.a. by Deed for ten boys to be taught, five of which
were clothed. This in turn saw the arrival of Robert Thackra, a teacher, who stayed
until 1750. His grave is in Winksley churchyard.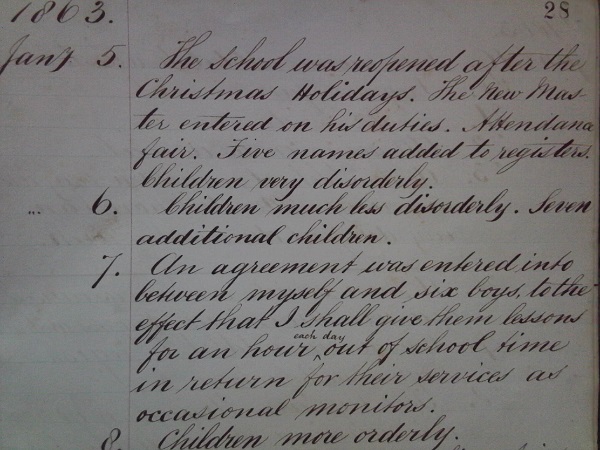 1874 5th Feb The School has been very thin this week owing to an Annual Fair being
held in Ripon and the willow-peeling season in this village. (For weaving baskets/hats etc.)
There was another annual Fair held in Ripon in June and the Hackfall Gala was held in
July, also Mrs Cathcart at Mowbray House often invited the children for tea and games
in their garden. Other events which meant the children having holiday were the Statute
Hirings held at Ripon in November, the Band of Hope Festival held in March and
the Kirkby Malzeard Feast in October.
1875 June 10th A holiday was given to day and all children above 8 years of age
were conveyed to Masham to join in the festivities on the occasion of the opening
of a new Railway to that Town.
1876 June 13th A Gala being held to day in Hackfall half a holiday was given to the children.
1876 June 23rd The Master's sick daughter aged 16 yrs died this morning at 8.25
and holiday was given until the 27th inst. This was Mr Myers' daughter
1882 Oct 20th The Hon: Mrs. Cathcart visited the school & promised to pay the
School Fees for five children.
1883 April 20th Several children absent on account of Ringworms, Measles and
Whooping cough. There are 4 cases of Ringworms, 6 cases of Measles and 12 of
Whooping Cough. School work on the whole satisfactory
1884 Sept 19th The following children have been Elected free scholars for a Term of
3 Years. Robert Prest. William Wright. Samuel Holdsworth. J. A. Wood. John Richmond.
Selina Prest.
Memorandum. Free Scholars are expected to make 350 attendances during the year
unless hindered by sickness



1886 March 8th I (F. W. Ingram. Certificated Teacher) commenced
my duties as Head Master of this School.
1895 Nov 2nd Mr Ingram gave up possession of the School premises
on Sat. Oct. 12th and is to be succeeded by Mr G. I. White on Monday Nov. 4th.
Mr Ingram then went on to become the head teacher of Dallowgill School